#1
- Nov. 30, 2010, 7 p.m.
Welcome to Tuesday's edition of the Community News! Today you can check up on the latest fansite updates, and don't miss out on the handful of cool and interesting threads that were recently posted on our forums.
Fansites:
Forum Watch: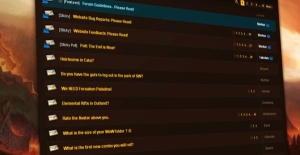 Enjoy the rest of the week everyone!
#blog .detail img { -moz-border-radius:4px; -webkit-border-radius:4px; border-radius:4px; -moz-box-shadow:0 0 20px #000000; -webkit-box-shadow:0 0 20px #000000; box-shadow:0 0 20px #000000; border: 1px solid #372511; max-width: 570px !important; padding: 1px; } #blog .detail td:hover > a img, #blog .detail a img:hover { border: 1px solid #CD9000; }